Creating
Loving
Systems
Across Communities to Provide All Students an Opportunity to Learn
Loving
Cities Index
Today, most significant indicators related to education, health and the economic success of children and families continue to show pervasive gaps in outcomes for people of color and low-income individuals. This is unacceptable.
Get an interactive tour of the report and how you can use it where you live:
Webinar: First Look at the Loving Cities Index
Loving Cities Index
The Loving Cities Index helps cities begin the kinds of conversations and collaborations needed to adopt a comprehensive system of supports that provide all children with an equal opportunity to thrive and succeed. The Index measures access to 24 community and school-based supports in four areas of impact:
CARE: supports that provide a healthy, nurturing environment for physical and mental development.
STABILITY: supports that provide a safe, healthy living environment consistently over time.
COMMITMENT: supports that ensure each student's unique potential is recognized.
CAPACITY: supports to provide the expertise and resources to meet all children's needs.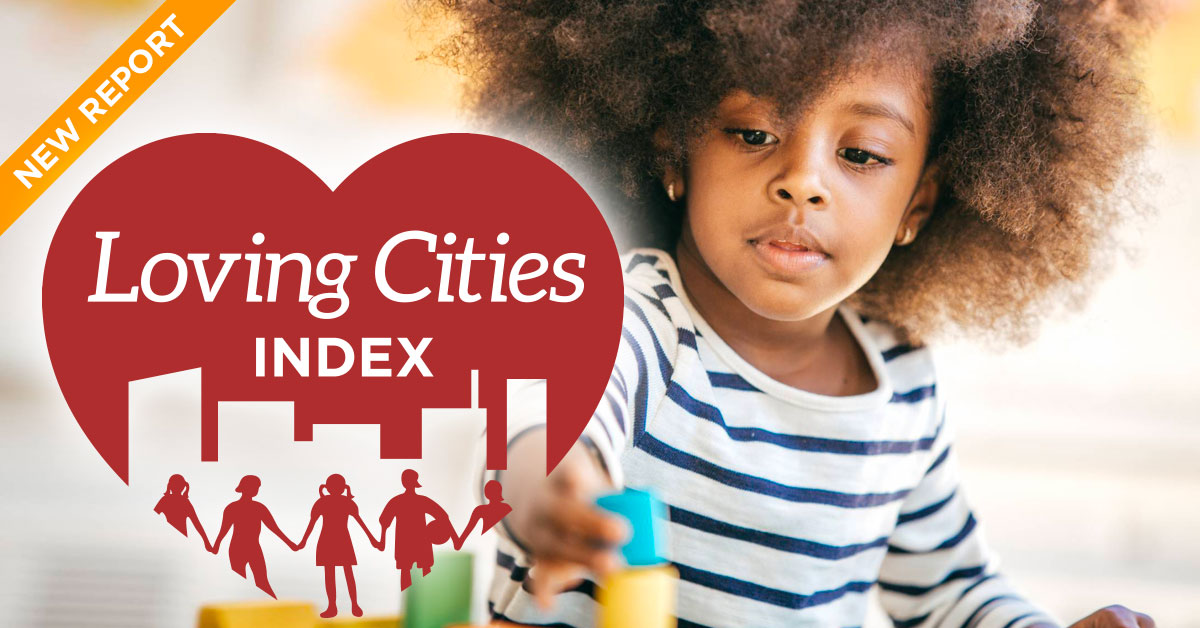 Key Thermostat Indicators
Care
Pre-Natal Health
Health Insurance
In-School Support Staff
Parks
Clean Air
Mental Health
Healthy Food
Commitment
Preschool Suspension Alternatives
K-12 Expulsion Alternatives
K-12 Suspension Alternatives
Anti-Bullying
School-to-Prison Alternatives
Early Childhood Education
Stability
Public Transit
Youth Safety
Banking
Affordable Housing
Livable Wages
Civic Participation
Capacity
Gifted K-8 Curriculum
Experienced Teachers
Advanced High School Curriculum
Economically-Integrated Schools
Well-Resourced Schools
View the Index by City
Inside the Report
Executive Summary
A New Day: Replacing Racially Biased and Hate-Filled Policies to Create Loving Systems and Communities Where All Students Have an Opportunity to Learn
Learn More
The Loving Cities Index
The Index framework draws from the wisdom of communities and a strong research base to identify 24 indicators that represent supports associated with academic and economic success.
View the Index
Solutions
How You Can Join the Movement to Create Loving Systems
Get Informed
Next Steps
How You Can Join the Movement to Create Loving Systems