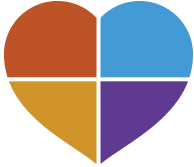 All cities and localities can use the Loving Cities Framework to look holistically at their thermostat climate data and determine local successes and challenges in delivering a system of thermostat supports to help all children thrive. In each city and locality, a diverse set of stakeholders can come together around this data to discuss and develop priorities to build upon systems of support and ensure policies and practices deliver care, stability, commitment and capacity for all children.
Across the country, we see powerful examples of organizations and community members taking steps to provide systems of supports that give all children an opportunity to learn. While each city may identify their own priorities, there are four key things that all cities can do to strengthen their system of supports. These are outlined below along with promising models and approaches to learn and build from.
1. Increase Adoption of Models for Delivering a System of CARE to all Children and Families
To address childhood trauma and other mental and physical health needs, cities need to equip each and every public school to be a hub for assessing and meeting healthcare and other resource needs. Models like Communities in Schools and City Connects equip schools with staff and tools to provide a system for addressing individual student and family needs at scale. Communities in Schools has affiliates in 25 states and the District of Columbia, serving 1.5 million students in 2,300 schools. "CIS places a school support staff in each school who identifies challenges students face in class or at home and coordinates with community partners to bring outside resources inside schools – from immediate needs like food or clothing to more complex ones like counseling or emotional support." The results of providing integrated students supports are dramatic: 91% of CIS-served seniors graduated or received a GED and 99% of students stayed in school. For more information on CIS's model click here.
City Connects has a similar approach being implemented across 79 sites in Boston, Springfield, and Brockton, MA; New York City; Dayton and Springfield, OH; Hartford, CT; and Minneapolis, MN. In addition to individual assessment and referrals to community providers, City Connects uses an advanced tracking system so they can continue to track student utilization of providers and individual progress. Longitudinal studies have shown that students are 50% less likely to drop out with City Connects support and demonstrate higher school readiness, standardized test scores, and higher grades on report cards. For more information on City Connects model click here.
In addition to school models that refer students to providers, School-Based Health Alliance is a network of local, state and national nonprofits working to "complement the work of school nurses by providing a readily accessible referral site for students who are without a medical home or in need of more comprehensive services such as primary, mental, oral, or vision health care. SBHA understands that healthcare for young people, no matter their zip code, is critical to giving them an equal opportunity to learn and grow, and that school-based health care is a powerful tool for reaching children who unjustly experience disparities in access and outcomes. As of 2013-14, there were "2,315 school-based health centers that served students and communities in 49 of 50 states and the District of Columbia, 20% growth since 2010-11." SBHA and its state affiliates help schools establish and effectively run school-based health centers. For more information on SBHA affiliates, click here.
2. Elevate Policies and Practices That Integrate Communities and Schools to Increase Community STABILITY and Equitable Allocation of Community Resources
To address community and school segregation, we need to build mainstream understanding of the history of policies in the U.S. that created segregation and wealth inequity and come to terms with the damage those policies continue to have on communities today. In his book The Color of Law, Richard Rothstein recognizes that we as a society have largely "forgotten the history of how our government segregated America," and schools widely teach curricula that has been white-washed, failing to educate the public on our history of oppression and de jure racial segregation. The lack of broad understanding of how we created opportunity gaps affects the ability to build political will around solutions that meet these root causes of inequity in outcomes, so shifting the narrative to raise consciousness is critical to the adoption of loving systems.
The Color of Law outlines several examples of affirming policies that could be adopted if there were greater political will to reverse the damage of past policies and supports rooted in racism. One key policy change communities can adopt is inclusionary zoning policy, which can "require housing developers to set aside a portion of the homes they build at below-market rates, and reserve the right for the public housing commission to purchase one-third of those units to operate as subsidized public housing." Montgomery County, Maryland is a local example that has such policies in place, and the connection to improved educational outcomes is clear. "The program success is evidenced by the measurably higher achievement of low-income African American students who live and attend school in the county's wealthiest suburbs.
Reforming the Section 8 Housing Choice Voucher program can also lead to greater community integration. Section 8 is "by far the nation's largest low-income housing program" with 2.2 million vouchers authorized to date to help extremely low-income families live in lower-poverty neighborhoods. Because of practices in place for calculating the maximum subsidy and rules that allow discrimination against renters using vouchers, families generally only have the ability to move to incrementally higher income neighborhoods, and as a result this program has contributed to the maintenance of economic and racial segregation. Increasing subsidies to be on par with housing costs in more affluent neighborhoods and increasing the number of vouchers allocated to serve all families that have been damaged by historically racist policies would be a large step in beginning to heal and repair communities.
3. Increase COMMITMENT to All Children Through Increased Early Childhood Education Opportunities and Greater Training for Teachers and Administrators in Anti-Racist Practices and a Culture of Inclusion and Healing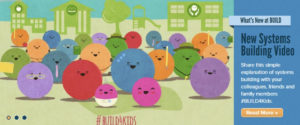 Access to early childhood education continues to be out of reach for roughly 40% of children nationally, despite the overwhelming evidence of its positive impact on academic success and other long-term outcomes. Federal programs that provide access to early childhood education need increased funding to meet the scale of need that exists. For the early childhood programs that do exist, they are in many ways further along than K-12 in adopting a holistic, whole-child approach to development. The BUILD Initiative is one of the leaders helping states build systems to support early childhood development. Their approach emphasizes building systems that provide access to quality early care and education as well as primary and preventative healthcare and early interventions. BUILD provides tools, resources and data to help families and communities build coordinated, systemic responses for each of these early childhood development needs to ensure all children are on a path for a lifetime of learning. For more resources click here.
Racial opportunity gaps are not just about gaps in access to resources; they also result from unintentional differences in the ways adults and other students treat children of color. Racial differences in rates of suspension and expulsion and data on levels of harassment that students are confronted with at school can give us some indication of the racial and ethnic bias that students face from peers and adults. These "invisible forces" are hard to measure, but are becoming clearer through research from groups like GLSEN and Georgetown Law Center that put data to the implicit biases and harassment that students, teachers, administrators and other adults within the system inflict against girls and boys of color. For recommendations on practices for increasing inclusion and reducing bullying in schools see GLSEN's report click here.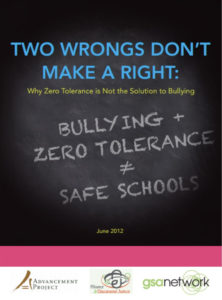 The Advancement Project, Alliance for Educational Justice and GSA Network also provide an important resource to understand the connection between policy and practices in response to bullying and utilization of zero tolerance policies that increase the school-to-prison pipeline in their report, Two Wrongs Don't Make a Right: Why Zero Tolerance is Not the Solution to Bullying. The report says, "many lawmakers have been sensitized to the harms caused by bullying, harassment, and hostile school climates, and have responded with an unprecedented surge in policy and legislative activity…21 states passed new legislation or updated existing legislation to address bullying in 2010 (compared to one in the year 2000). 23 states signed anti-bullying bills into law in 2011, and an additional four addressed the issue in 2012." The report goes on to explain that while these steps marked good intentions, the policy changes largely fail to address deeper issues around bullying, and the highly punitive approaches are in fact a form of bullying themselves, and are likely to exacerbate the problems caused by the school-to-prison pipeline. For recommendations on policies and practices to address bullying without using zero tolerance approaches that are more harmful than helpful to school safety and culture, click here.
Cities like Baltimore have made great strides in adopting policies and practices that create a culture of inclusion within schools and end the cycle of push-out. In 2016, Baltimore had a nearly 20% drop in the number of suspensions, a reflection of the increased focus on positive behavioral interventions in city schools, and of recognizing the need to understand what's going on in a child's life that may be manifesting as behavioral issues and providing students with supports rather than removal. Building on these efforts to shift school culture, Open Society Institute-Baltimore, in collaboration with Baltimore City Public Schools, Family League of Baltimore, and the Baltimore School Climate Collaborative, adopted a plan in 2017 to implement restorative justice practices in all Baltimore City Schools within five years. "The use of restorative practices in schools has been shown to support effective leadership and engaging classrooms; develop positive relationships among all stakeholders; and create engaging classrooms and welcoming and safe school communities."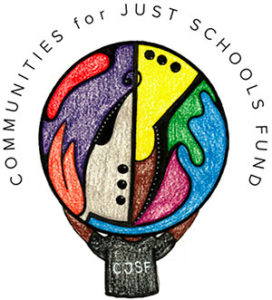 The Communities for Just Schools Fund (CJSF) is a national donor collaborative that "provides resources in support of community-led organizations that are working to ensure positive and supportive school climates that affirm and foster success of all students." CJSF is a leader in strengthening the organizing infrastructure in local communities by giving grants to local and regional groups that organize young people, parents and caregivers, educators and other community members to advocate on behalf of students impacted by exclusionary school discipline practices. For individuals and foundations interested in contributing to local organizing, CJSF shares several ways to get involved.
Local Case Study: Buffalo's Commitment to Equity in a Time of Growth
The city of Buffalo has a history of racial inequity, like every other place in America, but the community is working together to build their local economy and ensure all residents have the opportunity to take part and fulfill their highest potential. In 1972, a group of parents in Buffalo won a federal lawsuit to desegregate the city's public schools, establishing a court mandate that schools be made up of at least 30% and no more than 65% non-White students. Between 1976 — 1987, Buffalo successfully implemented a model for school integration reaching a point where none of the schools had populations over 80% either White or 80% students of color. In 1987, the court lifted its mandate because of the great results, and since school segregation has returned back to 70% segregated schools as it was in the early 1970s. Today, the Buffalo community has been at the forefront of providing cross-sector systems of supports for children and families. Say Yes to Education Buffalo brought leaders from every sector together to commit to giving a scholarship to every student that graduated high school and was accepted to a post-secondary program, while simultaneously working to put local systems in place to provide students with the wrap-around supports they needed to succeed. Among other supports, every public school in Buffalo offers mental health clinics and physical health providers needed to be healthy and succeed in school. Twenty-five community leaders have come together to form the Racial Equity Roundtable, led by the Community Foundation for Greater Buffalo with the purpose of tackling the existing gaps in racial equity, and expanding opportunity in neighborhoods across the region — where people live, work and raise their children. Their approach relies heavily on resident engagement, and cross-sector collaboration and data, and their website outlines a clear, comprehensive plan for collective action. For more information visit racialequitybuffalo.org
4. Deepen Public and Private Commitment to Increasing CAPACITY of Public Schools
We need to invest equitably in schools to ensure that districts are able to provide a system of supports for all children, particularly those living in poverty. According to research by the Education Law Center and Rutgers Graduate School of Education, states are largely failing to invest adequately and fairly to provide all students with the resources and supports that they need to succeed. State by state, there is more than three times the dollars invested in children in the highest funded state (New York, $18k per child) than children in the lowest funded state (Idaho, $5.8k per child). These differences are often not a reflection of differences in cost of living or amount of state resources overall, but rather biased policy that affects the opportunity for all children to learn.
In the report Is School Funding Fair? A National Report Card (NRC), research shows that only four states (Delaware, Massachusetts, Minnesota and New Jersey) have "progressive" school funding policy where there are sufficiently high funding levels and higher rates of funding for high poverty districts. Fourteen states have a "regressive" school funding policy, where less funding is provided to school districts with higher levels of student poverty, fueling deeper opportunity gaps in access to educational supports and failing to correct for the opportunity gaps in living environments. The NRC also labels many states as low "effort" states, because they invest a low percentage of their economic capacity to support their public education systems. For data and resources to advocate for fair school funding, click here.