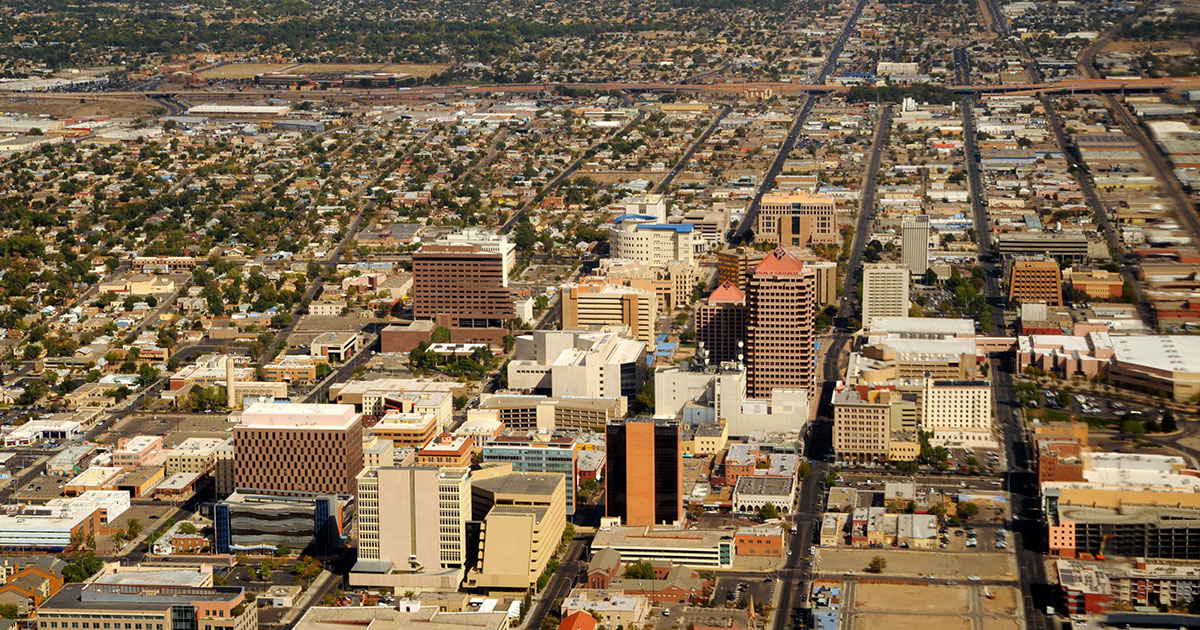 Download the full Albuquerque Report >
Albuquerque, New Mexico, is located in the west-central part of the state and is the seat of Bernalillo County. Over one million people live in Albuquerque, the largest city in New Mexico. Albuquerque is home to several universities, research laboratories, and the Kirtland Air Force Base. Native communities in the area today known as New Mexico date back two millennia. Spanish colonizers arrived in the 1500s, claiming the area as New Spain until New Mexico became a territory during the 1820s in the newly sovereign Mexico Republic before incorporation into U.S. statehood in 1885 following the Mexican-American war. Today the state has 23 pueblos, tribes and nations, several in the Albuquerque area and Native Americans are 4% of the city's population. Albuquerque's population increased during the 1880s, when the Atchison, Topeka, and Santa Fe Railroad made its way to Albuquerque, increasing migration flow to the city. At one time, almost half of all men in Albuquerque worked for the railroad.
Racist policies and practices have undoubtedly determined intergenerational opportunities in places like Albuquerque. Though not well known, New Mexico passed a "slave code" law in the 1850s which permitted slavery in the state and curtailed free Black people from traveling, testifying in court, and carrying weapons. In 1896, the U.S. Supreme Court upheld racial segregation and for the next 60 years Jim Crow laws legally defined schools, workplaces, buses, railroad cars, and even hospitals and cemeteries as either "white only" or "colored" (Plessy v. Ferguson). In 1954, segregation was challenged in Brown v. Board of Education, and the Supreme Court held that "separate but equal" violated the 14th Amendment. In a unanimous decision, Chief Justice, Earl Warren wrote, "In the field of public education, the doctrine of 'separate but equal' has no place. Separate educational facilities are inherently unequal." Subsequently, school desegregation plans were initiated in many cities, both in the South as well as in the North, where schools were often racially segregated though without the formal laws of the South.
Although Albuquerque lacked a formal school segregation policy, students faced segregated conditions and marginalization. From the 1880s to the 1980s, Native American children were forcibly removed from their homes to attend the Albuquerque Indian School, where children were deprived of their culture. And, Black children in Albuquerque, forced to sit in the back of classrooms and line up separately during school activities, were treated as second class citizens. Officials attempted to open a separate school for Black children in the city, a move that Black families fought. Black activists in Albuquerque followed the lead of Hispanic activists in the pursuit of civil rights laws. Despite the passage of state anti-discrimination laws in 1952, equal access to employment and housing remained elusive in Albuquerque. Whites in Albuquerque neighborhoods imposed racial covenants prohibiting sales to Black buyers. At the time, most Black people lived in an area of the city known as South Broadway.
Over the past 20 years, Hispanic and Asian populations have increased and the proportion of whites has decreased. Different parts of the city have changed in different ways: on the east side, the percentage of people of color has declined, while on the westside, it has increased. School demographic changes mirror these trends. Schools on the eastside have more white students (70%+) and schools on the west side have more students of color. The city has seen rapid job growth, but workers' wages in Albuquerque have declined since the 1970s and income inequality has grown over the past 30 years. People of color in Albuquerque at all education levels make lower wages compared to whites.
Albuquerque Public Schools is the largest employer in the city. As of 2019, the district served 90,000 students, making it one of the 40 largest districts in the country. There are 142 traditional public schools (88 elementary schools, 4 K-8, 28 middle and 22 high schools) and 55 charter schools. Hispanic students are 66% of the student population, white students 23%, American Indian students 6%, Black students 3%, and Asian students 2%. English language learners are 17% of enrollment. Two-thirds of students are low-income (66%). Students of color are more likely to live in poverty compared to white students in the city and a higher percentage of Black youth are out of school and unemployed.
State of Healthy Living and Learning in Albuquerque
Overall, Albuquerque has some bright spots in access to Care and Commitment, with 97% of youth accessing health insurance, and nearly 90% of residents living within half a mile of public parkland. Still, when it comes to health equity, Albuquerque has far more infants born below birthweight compared to the national average, with large racial disparities between Hispanic and White infants, high rates of youth mortality, and limited access to fresh food among low-income residents (40%). When it comes to Stability, like most other cities, Albuquerque has major economic inequities in livable wages, with only 49% of Native families earning high enough wages for their labor to live above subsistence, compared to 84% of white families. At the same time, only half of all families in Albuquerque have access to affordable housing, and there does not seem to be a reliable public transit system. In schools, nearly 30% of Black students in the city have received at least one in-school or out-of-school suspension – more than 3 times the rate of White suspension, and there are not clear commitment or resources for restorative practices.
Albuquerque has a community school partnership called the Albuquerque/Bernalillo Community School Partnership. Community schools are "public schools that partner with families and community organizations to provide well-rounded educational opportunities and supports for students' school success." Well-implemented Community Schools are an evidenced-based approach for supporting student and family empowerment and success in academics and beyond. Albuquerque has 34 community schools (24% of all schools) that serve 21% of the district's students. The ABC Community School Partnership provides health care, legal, and basic needs services to thousands of students and families, as well as extended learning time and local civic engagement opportunities. New Mexico is also making exciting progress in reimagining Native education through the success of the Native American Community Academy (NACA) in Albuquerque and the NACA Inspired Schools Network. NACA, and other schools following their approach design rich learning opportunities across subject areas that are grounded in traditional wisdom and prioritize Native language preservation.
Albuquerque skyline photo by Robert Adams.
For endnotes and references, download the PDF report below.