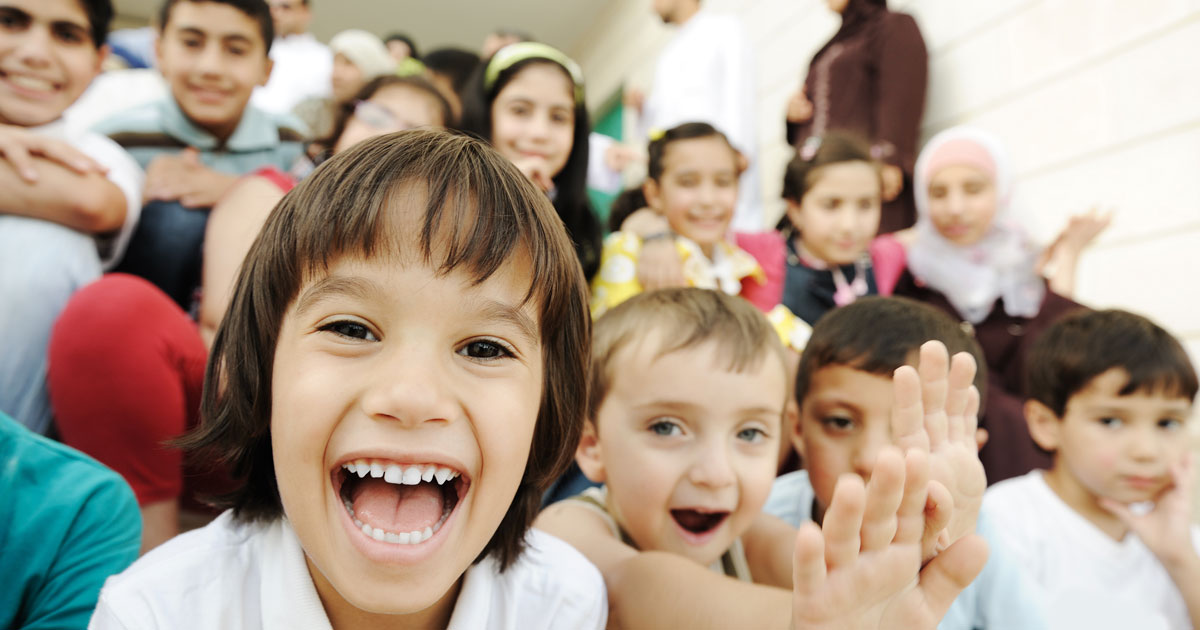 The domain of Commitment includes early childhood education, alternatives to suspension, expulsion and referral to law enforcement, and anti-bullying practices in schools. On average, communities are delivering approximately 44% of the supports the Index measures related to Commitment. Baltimore and Long Beach demonstrates the highest level of support related to Commitment, earning 63% of the total possible points, with the lowest rates of suspension and lowest inequity in suspension by race. Baltimore has earned national recognition for their city-wide efforts to reduce suspensions and introduce restorative justice. None of the 10 cities earned points for access to early childhood education, and there continues to be large inequities in some of the cities around suspension, expulsion and referrals to law enforcement.
Early Childhood Education Participation
Access to early childhood education is critical to a child's long-term success. The physical, social and emotional health of children in the first five years of life is tied to long-lasting impacts on brain and cognitive development, language, motor skills, and academic learning. Still, cities show extremely low rates of participation in early education, and when that data disaggregated by race was available, we typically saw large disparities in access by racial group. Little Rock has the highest rate of early education participation (61%) and Charlotte has the lowest (45%). In Charlotte, 69% of White students participate in early childhood education compared to only 37% and 30% of Black and Latino children, respectively. The federal program Head Start was created to address the gap in access to early childhood education, but since it is under-funded there are not enough available seats to meet the need, and those seats are reserved for the lowest-income families, leaving many without an affordable option. Early childhood education not only affects students' academic success, but also is a critical economic resource for families — with reliable, affordable childcare, families can participate more deeply in the workforce and bring home increased income. Availability and affordability are tremendous issues facing families today — supply in most cities is too low and prices too high, making early childhood education out of reach even for middle-income families.
K-12 Suspension & Expulsion Alternatives
For over a decade, the Schott Foundation's efforts to collect and publish national data on the four-year graduation rates for Black males compared to other sub-groups has highlighted how the persistent systemic disparity in opportunity creates a climate and perception of a population who is less valued. We've seen progress in cities and states committing to roll back "zero tolerance" policies that take a punitive, harmful approach to discipline and replace those with restorative justice approaches that create safer schools and healthier learning environments. Four out of 10 cities reported suspension rates equal to or below 10% of the student population, but Baltimore was the only city that also had less than a 5% difference in suspension rates among different race/ethnicity groups. Chicago and Little Rock stand out as cities with particularly high rates of suspension and large inequities in suspension rates across race. Baltimore's success here reflects major policy change under the leadership of Superintendent Dr. Andres Alonso who, with considerable community buy-in and support from local and national philanthropic institutions, replaced zero tolerance policies that lead to school push-out, particularly among students of color, with restorative discipline approaches. Still, Baltimore is one of four cities with relatively high number of expulsions, largely affecting Black students compared to White. In Baltimore 95% of the 541 expulsions in 2013/14 were received by Black students. Still, the data overall suggest that there have been significant strides in discipline policies to minimize the number of children removed from classrooms.
Preschool Suspension Alternatives
As more attention has been brought to inequity in suspension rates in K-12, many have also called attention to high and inequitable levels of preschool suspension and expulsion. Six of the 10 cities reported zero preschool suspensions. In Chicago, Baltimore and Buffalo, data shows that preschool suspension is used largely against Black children. In Chicago, there were 103 preschool suspensions, and 96% of those children were Black. Yale University has been a leader in researching preschool expulsion. Their first report in 2005 highlighted that preschoolers are expelled at three times the rate of K-12, and found that expulsion rates were lowest in public school and Head Start classrooms compared to faith-affiliated centers and for-profit child care. More recent research highlights a clear connection between implicit bias and rates of expulsion, and recognizes significant differences based on the race of the teacher. "Researchers used sophisticated eye-tracking technology and found that preschool teachers 'show a tendency to more closely observe black students, especially boys, when challenging behaviors that are expected'… Findings suggested that when the preschool teacher and child were of the same race, knowing about family stressors led to increased teacher empathy for the preschooler and decreased how severe the behaviors appeared to the teacher. But, when the teacher and child were of a different race, the same family information seemed to overwhelm the teachers and the behaviors were perceived as being more severe."
School to Prison Alternatives
In addition to suspension and expulsion policy contributing to a "school-to-prison pipeline," particularly for Black and, to a lesser extent, Latino students, many states continue to have police officers on site at schools who have the power to charge students in court for misdemeanors such as disorderly conduct, disrespect and fighting. Chicago, Denver and Baltimore reported some of the highest levels of referrals to law enforcement. In Chicago, 4,848 referrals to law enforcement were made in 2013-14, and 63% were against Black students compared to 3.5% for White students. The U.S. Department of Education reported state data on referrals to police and courts, and Pennsylvania, Colorado, North Carolina and Minnesota were among the 15 states with the highest rates of referrals to law enforcement. There is also a real and growing "school-to-deportation pipeline," though it is considerably harder to quantify. There are documented cases of Immigration and Customs Enforcement using suspensions and observations of students' interactions with others at school as bases for detaining immigrant students.
Anti-Bullying
There was limited data available across cities and localities to understand the existing scale of bullying in school climates. This Index looked at the number of reported allegations of harassment or bullying on the basis of sex, race, color, national origin or disability, and found that four of the 10 cities did not report any allegations. No reports in cities are likely an indication of under-reporting, so we gave those cities zero points in this area. Research from the Gay, Lesbian and Straight Education Network (GLSEN) surveyed a sample of students across the country and highlights the scale and repercussions of harassment and bullying which can keep students from coming to school and succeeding academically. The report showed that 73.9% of students reported personally experiencing some type of peer victimization. Additionally, 17.7% of secondary students and 36.6% of LGBTQ students surveyed reported missing one or more days of school in the past month because they felt unsafe or uncomfortable. GLSEN's research found that students reported hearing teachers or school staff make negative comments related to students, including 25% hearing negative comments about gender expression, 20.6% hearing sexist remarks, 15.3% hearing homophobic remarks, and 14.4% hearing racist remarks. Additionally, only about 50% of teachers reported engaging in at least one practice related to creating a positive environment for LGBTQ youth. To combat school bullying we need to understand the real scale of the problem. The limited data available highlights the type of information that we need to collect universally to adequately measure and improve school climate conditions and ensure all students feel safe and able to come to school and learn.

Racial and Gender Stereotypes Based on How Adults Perceive Children May Be an Underlying Force Impacting Implicit Bias in Policies and Practices Around Providing Support to Children of Color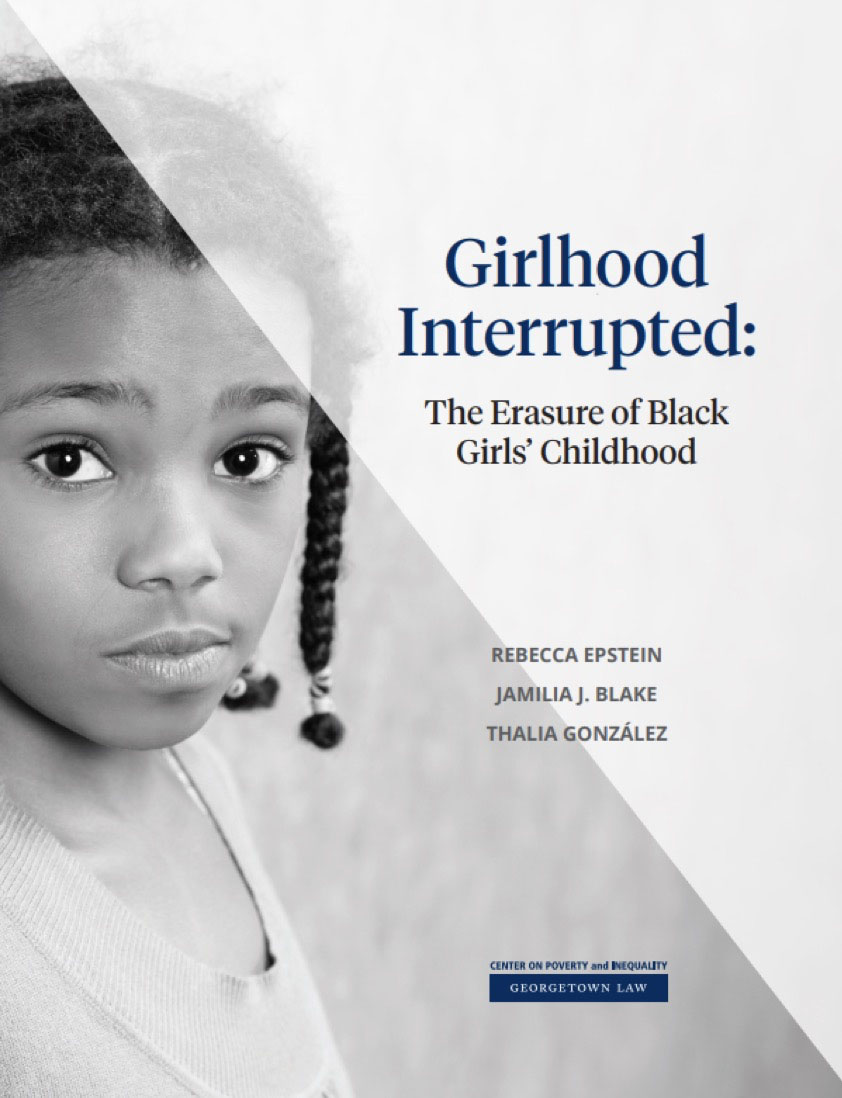 The Georgetown Law Center on Poverty and Inequality published a research report, Girlhood Interrupted, showing that adults view Black girls as less innocent and more adult-like than their White peers, especially in the age range of 5-14. Some of the stereotypes of what the report calls "adultification" included that Black girls need less nurturing, protection, support and comfort, and are more independent and knowledgeable about adult topics including sex.
The implication of this stereotype has far reaching and negative impacts on Black girls. This perception likely influences the way teachers and law enforcement treat Black girls compared to their White peers, and in part explains inequities in rates of suspension, referrals to law enforcement and the juvenile justice system, charging of crimes, and prosecutorial discretion.
The report calls on legislators, advocates, and policymakers to examine the disparities that exist for Black girls in the education and juvenile justice systems and engage in necessary reform. As communities consider policies and programs that institutionalize love through a system of supports, it will be critical to consider how bias among adults impacts the level of supports given to Black girls in particular.
---
Note on Suspension Data: Data on student suspensions can be classified in a number of different ways, making it challenging to have a sense of the overall percentage of the student population impacted by negative discipline policies as a whole. Cities can unintentionally or intentionally use specific suspension practices and reporting methods to downplay the prevalence of suspension, and this can serve as a tool by which to maintain the status quo of over policing young Black and Brown children by limiting transparency and accountability. Since our goal in this report is to provide an assessment of how loving local and state systems are towards children and suspensions of all kind are proven to be damaging, we chose to aggregate both in-school and out-of-school suspension rates for the purpose of applying a score for suspension as part of the Loving Cities Index calculation. This ensures that none of the cities get undue credit for lower out-of-school suspension rates by over-utilizing in-school suspension, or vice versa.